US auto giant Ford Motor Co Wednesday unveiled its first small car for the Indian market, "Ford Figo".

The Figo, which is colloquial Italian for "cool", will be manufactured at the company's Chennai facility and launched in markets by early 2010.

The Chennai unit is undergoing a $500-million upgrade as Ford seeks to make India a global production hub for its small cars.

"The Figo is designed to compete in India's small car segment, which accounts for more than 70 percent of the market," said Ford's global president and chief executive Alan Mulally, who unveiled the car at a function here.

The company, however, declined to give specific details like price and engine capacity.

"Ford is reserving further details about the car till its lau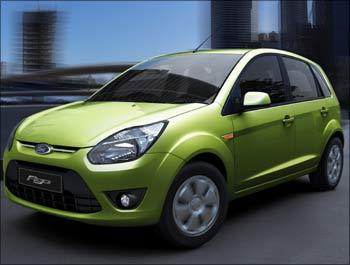 nch in early 2010," said Mulally. Asked about the price range of the Figo, Michael Boneham, Ford India president and managing director, said: "It's going to be very competitive with the current market leader and will offer a tremendous value for our consumers."

Maintaining that Ford Figo would be "a big game changer" for his company, Boneham said: "It will transform our brand into a volume player in India."

Ford is also planning to double its manufacturing capacity at its Chennai facility to 200,000 units per annum by 2010.